Cauliflower-Chickpea Salad with Dill-Lemon Dressing 

A dill-lemon dressing with plenty of acid adds tang—and texture—to a simple salad that's versatile, too. Skip or replace any ingredient you don't like, just follow the preparation technique. And remember: DO NOT SKIP THE "SALTING" STEP!
 Ingredients:
1 pound cauliflower, broken into large florets, sliced about ⅛ inch thick
4 oz white mushrooms, trimmed and sliced ⅛ inch thick (optional)
15½ oz can chickpeas, rinsed and drained
4 radishes, sliced about ⅛ inch thick
1-2 serrano chilies, stemmed and sliced into thin rings
Kosher salt and ground black pepper
¾ cup plain whole-milk Greek yogurt (or mayo)
¼ cup grapeseed or other neutral oil
3 tablespoons lemon juice
1 tablespoon honey (optional)
1 medium garlic clove, finely grated
¼ cup chopped fresh dill (or any fresh herb)
Directions:
1.  In a large bowl, toss together the cauliflower, mushrooms, chickpeas, radishes, chilies and ¾ teaspoon salt; let stand for about 10 minutes. Meanwhile, in a small bowl, stir together the yogurt, oil, lemon juice, honey, garlic and ¼ teaspoon each salt and pepper.
2.  Add the yogurt (or mayo) mixture and half the dill to the vegetables and toss. Taste and season with salt and pepper. Let stand for about 30 minutes. Transfer to a platter and sprinkle with the remaining dill.
Tip: Don't skip the step of salting the vegetables. The salt wilts them just enough to remove their rawness but allows them to retain their fresh, crisp texture and flavor. Before dressing the veggies, there's no need to drain off any liquid they release.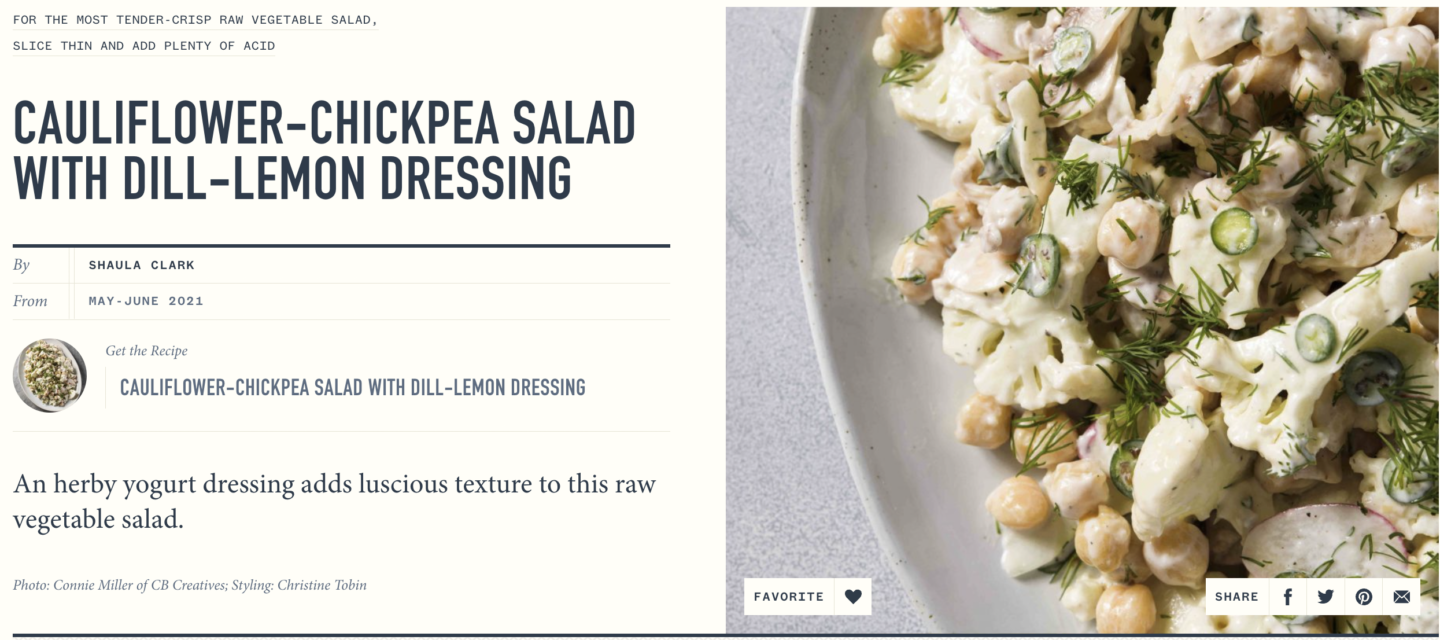 Cauliflower-Chickpea Salad with Dill-Lemon Dressing 

Background: This unique salad of raw cauliflower and mushrooms tossed with sliced radishes, chickpeas and a yogurt dressing is a simplified version of a recipe from "Bar Tartine" by Nicolaus Balla and Cortney Burns. With a wide array of flavors and textures—from sweet to spicy and crisp to creamy—the dish is deliciously complex, and each forkful is different from the last. All of the vegetables are uncooked and the chickpeas are canned, so the vegetable prep is the most time-consuming aspect of the salad. If you own a mandoline, this is a perfect opportunity to use it. Otherwise, a sharp chef's knife and slicing skills get the job done, too. This is a great accompaniment to kebabs or grilled chicken or lamb, or offer it as a light vegetarian main with warmed flatbread alongside.
SOURCE: Christopher KIMBALL'S Milkstreet