Way to Get AFTER it!
Clients Jump to Join New Program: Fit Chicks Daily by Caroline Johnson
When Fit Chicks needed to close and keep clients away from even our very small group personal training classes, it was a BLOW! Besides missing great training, chats about nutrition, I was just missing coming! I missed the studio and the ladies who came every day.
Then, the team did this thing… I still can't believe it! They created virtual personal training, virtual nutrition coaching and that community feel again. WE GOT FIT CHICKS DAILY [cue up my happy dance] It has been fantastic being able to continue working toward healthy and happy goals by being able to continue doing personal trainer led sessions during the stay at home order.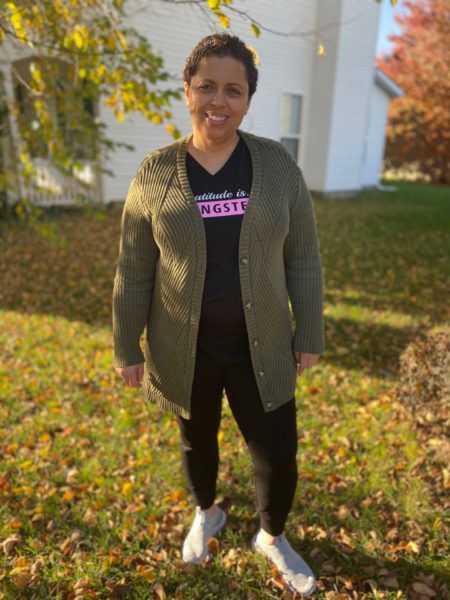 Caroline Johnson put on her Pandemic Reporters Cap and asked 5 of the 50 women doing Fit Chicks Daily. Here's what SHE said:
Aleta …
It is easy to do virtual sessions with the trainers! It feels like the trainer is right there with us and is making sure that we are doing exercises correctly. It's been fun being able to work out with my same workout buddies. The trainers have been great about adjusting workouts based on exercise equipment you have or don't have. And time slots are available that work for my schedule.
Shauna …
I love the community, the trainers and the sense of accomplishment when my weight change or the exercise challenges are increased. I also loves that the trainers are encouraging and that I have accountability by having a set workout time.
Lindsay …
I love being able to interact with the other ladies in my virtual sessions. The trainers are creative around the workouts that they have us do so that we are getting the same great workouts virtually that we would get in the studio. I love the flexibility of the schedule and that I have a set time slot for my workouts. I also love the nutrition talks on Friday afternoons! And lastly, I love the prerecorded cardio as an option for getting cardio in.
Jessica …
I love Fit Chicks Daily! I feel loved every time I show up. The crew and beautiful ladies who make up the Fit Chicks community build me up, they support me and help motivate me to be better. The workouts are fun and they work! The nutrition talks keep me on my toes and I love that Jenn and Roz are truly vested in my success. I loves each one of the trainers even if I struggle to walk and breathe after finishing a training session. LOL! "They are all AWESOME!"
Karen …
I LOVE FIT CHICKS DAILY (FCD)! It keeps me engaged in my goals of improving my health, keeping me committed, and focusing on living my best life. I'm still personal training, getting stronger, and getting my nutritional assistance that I need, which I was afraid would have stopped with the current environment. FC has become such a part of my life that FCD is allowing me to continue with that connection safely with the stay at home order. I am so thankful for the technology, the motivation, the commitment of the FC team, and the love and care they put into each virtual contact we have.
Sheltered-in-Place Special Offer
To those of you who are clients of Fit Chicks who have not yet plugged in to Fit Chicks Daily, you are missing out!! This is not the time to pause or quit on your health and happiness.
To those of you who are not clients and have been thinking about trying Fit Chicks, or trying a personal trainer, or wanting to join a fitness studio, or just wanting to take better care of yourself so that you feel better … ask yourself, if you are currently doing very little to take better care of yourself, what is the harm in giving something different a try? I'm telling you what I know! … this is the place to be!
Want to Join Fit Chicks Daily?
Sign up now and use your training classes by June 19!