One of the first questions potential client want to know when they call about a personal trainer is: How much does this type of personal training cost?
Although this is a very difficult question to answer, I will try to do my best here to explain some general pricing guidelines. Because as a woman who works with a personal trainer, as well as the owner of a personal training small business, I consider this to be a legitimate question that deserves an answer.
The investment in a personal trainer is much like the purchase of a car or even a kitchen suite of appliances (refrigerator, oven, microwave, dishwasher, etc). With so many options available, price ranges can vary drastically.
Just as a new kitchen starts around $7k for just the basic appliances, it can quickly cost over $25k once a woman adds such upgrades as professional grade gas range, family hub refrigerator, double convection oven or a motion wave sensing faucet. Then sees the need to get better electric/gas conversions, warranties, and proper installation. The cost can jump again.
Considering that the average American woman spends less and less time in the kitchen, why do so many women when buying appliances for the kitchen, don't go for the cheapest option available? The answer is because most women understand the importance of getting what they want the first time so as to not have any regrets down the road. Because most women spend over 30 minutes a day thinking about their body (mostly negatively), they want to make sure their kitchen improvements will provide them with confidence, quality, longevity, and ease of use.
These same principles typically apply to most personal training shoppers.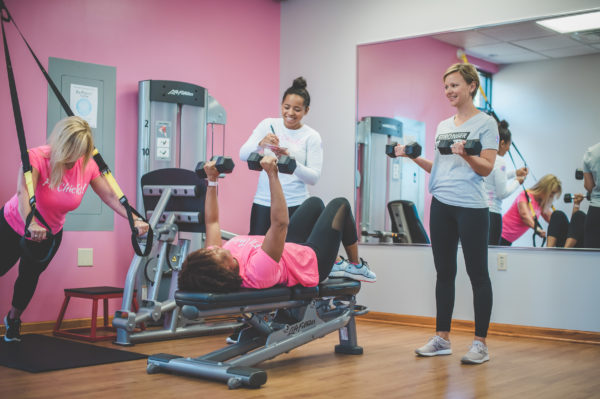 You want to see yourself healthy, happy and strong every day and living at a weight that leaves you feeling more confident and in control. Heck, you want to look good in pictures and feel great in your clothes! So picking the right program with the right options the first time is critical to ensure maximum enjoyment with minimum effort. Because of this, most women shopping for a personal trainer elect to get the program that will make them happiest in the long-run.
Unfortunately, some people only focus on the initial price of the session with the goal of finding the cheapest trainer/coach, therefore sacrificing their personal safety, inconvenient locations, comfortability, ugly surrounding, dirt and fun, which inevitably leads to regret.
Some of the most common "misses" of a personal trainer and gym programs are:
Inadequate/Non-commercial grade exercise equipment
No on-demand training videos access
Inadequate cardio training
No cardio coaching
No diet accountability
No nutrition education
No ability to modify exercises
No private nutrition consultations
No online nutrition resources
No exercise variety
Mixed groups of men or women at misfit levels
Uncomfortable/Inconvenient locations
Inexperienced trainers
Quota-driven trainers
That's why when someone receives a price from Fit Chicks, we thoroughly examine each aspect of our program to educate her on the option's benefits in light of her goals.
As you can see, there are many variables that impact a programs price when you're committed to delivering best-in class personal training for women.
How much does a personal training cost?
The average price of a personal trainer is $40.00–$110.00 per hour. This cost excludes things like the gym membership price, nutrition counseling, cardio coaching, and wellness services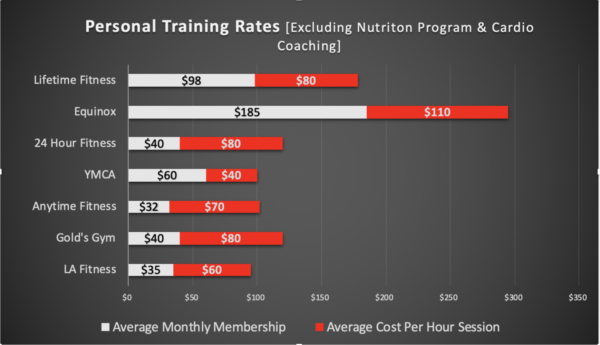 When someone inquires how much our program cost, her health goal is also a key factor. What I mean by this is that as a personal training program, we have three different packages we offer our clients. Unlike franchise fitness studios or personal training provided through a big gym, we are not stuck doing the same workout week after week and there's not a separate "base membership cost". Plus, the studio now provides a LIVE online option, too. This complete program leads to less stress and more savings for the clients.
Our programs:
When you are searching for a complete fitness and nutrition program Fit Chicks! gives you small group personal training and the nutrition accountability you deserve to feel healthy, happy and strong.
When you want to get in shape without the hassles of a big gym, Fit Chicks LIVE provides virtual personal training. You can get fit on your terms.
With workouts that are geared to physical modification clients require, Fit Chicks On-demand helps client fill-in workout gaps that inevitable come with our busy lifestyles.
The price of these package typically ranges from $20–$32 per session, depending on the number of reservations and combination of in-studio and LIVE sessions that you need to reach your goals.
* Note: All Fit Chicks membership includes access to our nutrition assistance and cardio accountability. Plus there's no separate "membership fee"
What Affects the Cost of a Personal Trainer?
Location of Session – Whether you train in a gym, at his home, or if they run with you outside on a route around your neighborhood costs will be different.
Number of Sessions – Discounts are available up to 30% when purchasing training sessions in packages of 5, 10, or 20 or scheduling recurring weekly or bi-weekly training.
Group Fitness vs. Personal Training vs. Semi-Private – A one-on-one personal training session costs more than group classes (like bootcamps) and semi-private/small group sessions with 2 to 3 other women.
Trainer Expertise – Expert trainers can customize exercise plans for you that's safe as well as effective. Their knowledge of recovering from specific injuries or surgeries will help prevent any injuries.
Trainer Works for a Franchise – Trainers or business owners that actual work for a franchise typically have less leeway when it comes to workout routines, their programs and therefore prices.
Health of the Business – Whether the trainer is running their own private business or you're getting trained at a company location, a business's financial instability can result in blowout specials
Personal training for women can be a life changing options. The best insurance is a healthy body. So STRONG body now for a strong body tomorrow.